A two-year Business Finland funded research project, implemented by the University of Eastern Finland and the University of Turku between 2022 and 2024, titled High-skilled internationals: bottom-up insights into policy innovation for work and entrepreneurship in Finland (HIWE), has released its first findings.
During the project, the researchers listen to internationals' experiences of Finland and look at how the Finnish policies and the service ecosystem respond to the challenges the international talents have experienced. The HIWE team's goal is to innovate novel ways for making internationals' voice be heard better in policy and decision making.
The Turku ecosystem
There are lots of services for international talent, but information about these is quite fragmented.
The HIWE project mapped the services geared toward highly skilled internationals in four Finnish cities: Helsinki, Kuopio, Tampere and Turku, and created interactive maps to visualize the service ecosystems.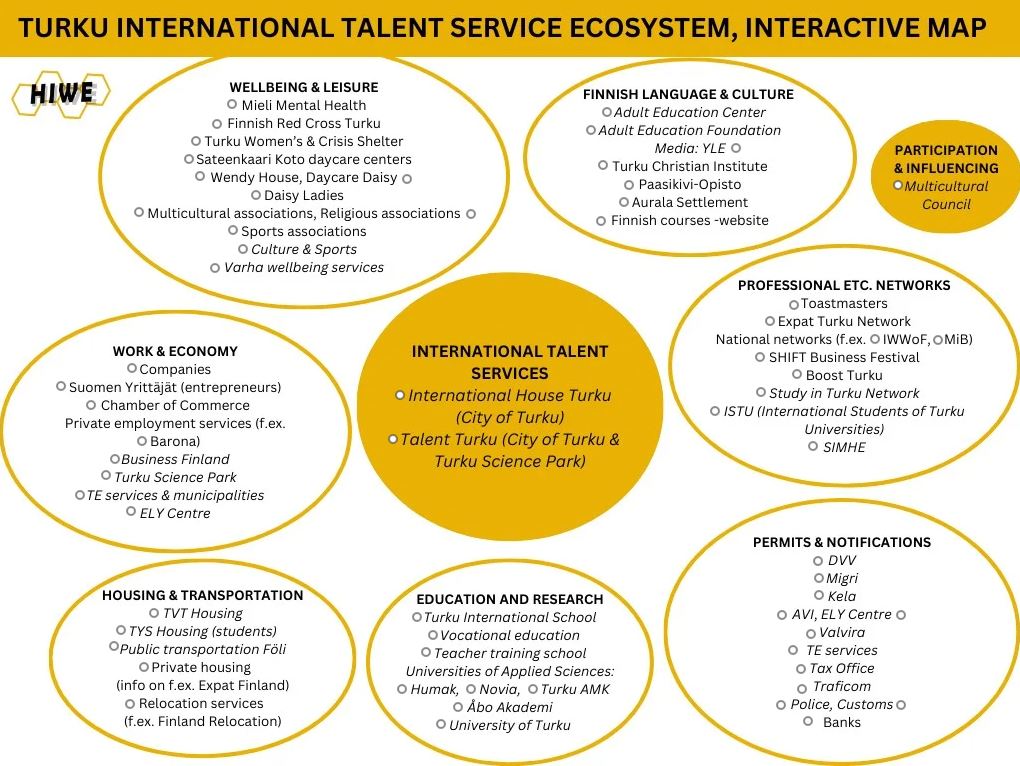 In the Turku example above, you can see that the international talent services are provided by the Talent Turku programme, which is also responsible for this website, as well as International House Turku, which brings together counselling and guidance services in the region. Together they are part of the national #TalentBoost scheme, aiming to attract international talent and promote integration in Finland.
International House Turku has its physical premises at the Monitori service point in downtown Turku. To make things easier for newcomers to the city, the helpful staff will be able to direct you in the right direction regarding your questions about legal matters, education, housing, work opportunities, wellbeing, and more.
Synthesized stories
How do highly skilled internationals experience working and living in Finland? The researchers wanted to dive deep into internationals' experiences and interviewed 61 people with diverse backgrounds to do so.
The result? Five engaging stories, co-created with the interviewees, that depict the variety of experiences and emotions that the interviewees have lived through in Finland. These are not stories of single individuals: according to HIWE, each story combines the experiences, feelings, and thoughts of many, if not most, of the interviewees. Read all the stories on the project website.
Next steps
There's more to come, so stay tuned:
We are not going to just settle for understanding the gaps between policies and lived experience: we will organise a series of workshops for addressing some of the challenges in early 2024. We are also busy with preparing academic publications.

HIWE project update, autumn 2023
Follow the HIWE project to stay up to speed: